Portfolio: Super Bowl Square Challenge
February 7 @ 6:30 pm

-

10:30 pm

Free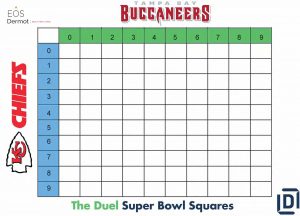 Super bowl Square Challenge follow us on Instagram @dermoteosclub for live updates!
Sign up below by Feb 6th @12PM to be included in the challenge. Each resident needs to sign up themselves (no duplicate entries).
Prize:  $50 amazon gift card (4 winners: quarter 1, halftime, quarter 2, and quarter 4 will each win the prize)
Rules:
EOS created a 10×10 box, filled with 100 squares. Each box corresponds with a number from 0 to 9, with the x-axis representing the score of Buccaneers and the y-axis representing the score of the Chiefs.
We will assign numbers zero through nine to each of the corresponding boxes—making sure there are no repeats. We will randomly in the spirit of fairness. write the numbers to each corresponding box on the master sheet, then inform each of the residents of which numbers they have received.
ABOVE ARE NUMBERS IN CHRONILOGICAL OVER, BUT WILL NOT BE ON THE MASTERSHEET. WE ARE SHOWING THIS AS A VISUAL. 
Each number represents the second number of a team's score total, assuming a false zero for every single-digit total. Meaning, if  Buccaneers scored 27 points, the 7 is the value you use. Same goes for the Chiefs.
o   Only the person who matches both numbers wins. Say after first quarter, the Buccaneers are winning 14- 6, the winner will be (4,6)
Tickets are not available as this event has passed.
Related Events